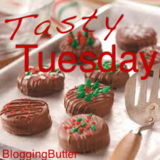 As usual, this recipe came from my mother. This was one of my favorite desserts when I was young. Now that I have to watch what I eat, I rarely make this because I WILL eat the whole thing.
Homemade chocolate fudge Ice Cream Pie.
Makes 2 pies.
1/2 gallon vanilla ice cream, set it out to get soft and melty
1 box 'Nilla wafers
1 large bag chocolate chips
Line pie plates with 'Nilla wafers. Melt chocolate chips over stove, stirring every second so it doesn't burn. Scoop thin layer of ice cream over 'Nilla wafers. Pour some hot chocolate chips over it. Stick knife down in and drag it around to swirl the chocolate thru the ice cream.
Repeat layer of ice cream, then chocolate swirl.
Freeze fully. Thaw a tad bit and enjoy!
Click on the Tasty Tuesday button above and see what other recipes you can try!