Today's Tasty Tuesday recipe comes from Vicky at our Easter dinner. She made a broccoli cheese casserole that was to die for and I got the recipe just for you, my friend.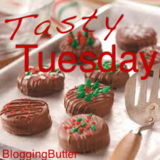 2 boxes chopped broccoli
2 eggs
1 can mushroom soup
1 cup Mayo (she swears it has to be Duke's brand)
1-2 c grated sharp cheese
1 small chopped onion
3/4 stick butter
Cook broccoli until slightly separated.....
Beat until fluffy.
Combine and mix all ingredients.
Bake at 350 for one hour.
Be sure to check out
Blogging Butter'
s Tasty Tuesday.