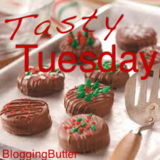 This is so simple and delicious, a great addition to any party or shower.
1 c sweetened condensed milk
2 c semi-sweet chocolate chips
Melt these together without burning, microwave is good with occasional stirring. Might want to dry microwaving the chips a few minutes, add some milk, stir, microwave again, add milk, stir. etc.
Drop by teaspoon onto wax paper.
That's it.
Leave them to harden for an hour or two and they're ready. If you want to get fancy, you can add something to the top - mini peanut butter cup, mini mints, walnut, pecan, etc.