Blogging Butter has started the fabulous
Tasty Tuesdays
. Be sure to check it out, bake some goodies or post your own great recipe!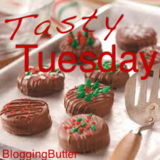 This week I'm posting my recipe for "Monkey Bread," also called "Bubble Bread." You can't imagine how easy and how good this is, I've become well known for it.
1 pkg. frozen bread rolls (24)
Grease and flour bundt pan.
Dump rolls into pan and spread evenly out....
Mix 3/4 c brown sugar and 1/2 pkg. butterscotch instant pudding (sm. pkg)
Spread that mix on top of rolls.
Mix 1/2 c white sugar and 2 tsp cinnamon. Pour this over rolls.
Melt 1 stick of butter and pour evenly over top of rolls.
Let this set out on a shelf over night. Bake at 350 for 20 minutes. Let sit for 5 minutes, then dump out of pan.