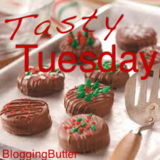 Be sure to pop over to Blogging Butter's
Tasty Tuesdays
. Check it out, bake some goodies or post your own great recipe!
For today's Tasty Tuesday, I'm sharing a recipe from Cynthia Sass'
Cinch!
healthy eating plan. I prepared this the other night and my whole family loved it.
This is a serving for one, so multiply it out for more.
3-4 romaine leaves, finely chopped
1 med. plum tomato, diced
1/2 c finely chopped cucumber
1/2 whole-grain pita
3 ounces cooked boneless skinless chicken breast, diced
1 Tbsp jarred basil pesto
2 Tbsp balsamic vinegar
1 clove roasted garlic
Toss the chicken with pesto and set aside. Toss the romaine, tomato, and cucumber with the vinegar and set aside. Spread the inside of the pita with the roasted garlic. Fill the pita with the chicken and then the tossed vegetables, serving any extra on the side.
* I used red leaf lettuce instead of romaine and I forgot the garlic.