My mother got this recipe many years ago from her good friend, Ruth, who now guest posts on this blog for our Helpful Hints column. It's become a favorite of my family and every stinkin' time I cook it, I think of Ruth and the first time I ate this at her house 31 years ago. Yeah, it's
that
good.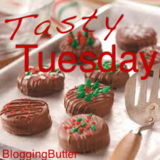 2-3 lb round steak, cut into cubes
1 stick butter
1 medium onion
1 can tomato soup
1 small can tomato paste
1/2 c - 3/4 c sour cream
Saute the onion in butter, add the meat and brown it.
Reduce to simmer.
Mix the soup and paste and add this mixture to the pan of steak.
Simmer for 1 1/2 - 2 hours
, stirring occasionally. Remove from heat. Stir in the sour cream.
Serve over rice
.
Hints: I double this for my family of 5 so that we can have leftovers. I've often forgotten the sour cream and it's pretty good without it. If you want to cut calories, skip it.